Accreditation agency probing fake diploma offer | News
COLLEGE PARK, Ga. -- The Facebook group Atlanta Online FleaMarket is a virtual swap meet where you can buy appliances, cars, clothing --- and according to a recent ad -- high school diplomas.
An 11Alive viewer who didn't want her name used contacted us about it.
"I saw an ad in online yard sale Atlanta and this woman was selling high school diplomas for $600," said the woman.
The posting, which includes a photo and quotation from Oprah Winfrey, offers a diploma from Life Christian Academy.
The seller uses the Facebook name Cre Cre Grier, and promises in her ad: "How fast you pay your $600, how fast you receive your diploma."
11Alive's Valerie Hoff texted the number given in her Facebook ad and asked about payment plans and how fast she could get a diploma.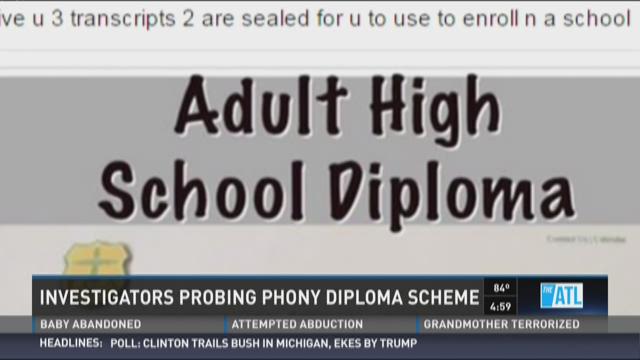 Grier: If u have $350 you can get it today.
11Alive's Valerie Hoff: Do I have to take a class or test?
Grier: No ma'am, not if u ready now.
In response to Hoff's question if it is a real diploma that can be used for college, the woman replied, 'Yes ma'am its legit, you can use it for college."
She instructed Hoff to pick up my diploma at 2600 Flat Shoals Road in College Park in the front office.
It turned out that address actually is the Life Christian Academy, an accredited private Kindergarten through 12th grade school and adult education center. When we asked for Cre, an unidentified woman said she was Cre's mother and that Cre had gone to pick up her children and would be back in a few minutes. Cre never emerged, but the school principal.. Rebecca Buchanan, did. When told that we had been offered a diploma for $350 dollars by a woman named Cre Grier, Buchanan said, "I don't know who that person is. She don't work in this office."
Later that day, all the Facebook ads for diplomas disappeared, as did Cre Cre Grier's Facebook page.
Twenty-four hours later the school's owner invited 11Alive back for a tour. Kelvin Waters and Principal Buchanan said they had no idea who was responsible for the diploma scam.
"I was totally appalled and I feel like someone is trying to sabotage Life Christian Academy. This is a total scam," said Buchanan. "I think someone is trying to hinder our school. We have a great school. We have a great mission. Our goal is to just help our kids make it."